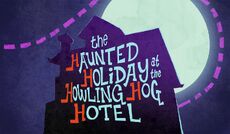 "The Haunted Holiday at the Howling Hog Hotel" is the first episode of Wandering Wenda. It premiered April 28, 2017 in Canada.
Short Summary
Edit
Wenda, Wesley and Wu spend time in a haunted hotel.
Ava Preston as Wenda
Nicolas Aqui as Wu
Jason Hopley as Wesley
Jeff Lumby as The Narrator
Margaret Atwood as Herself
Ad blocker interference detected!
Wikia is a free-to-use site that makes money from advertising. We have a modified experience for viewers using ad blockers

Wikia is not accessible if you've made further modifications. Remove the custom ad blocker rule(s) and the page will load as expected.